Beware The Crowman is a mental Floor 5 challenge introduced in Series 3.
The Caretaker's Explanation of the Game
Edit
A murky meadow, where a Crowman guards 13 flickering pumpkins. To pass this challenge, the Unfortunates must sneak past him and blow out three pumpkins. But beware, some of the pumpkins are bad, and will disturb the Crowman. Blow out three bad pumpkins, and they will fail!
The layout of the room is very dark and seems to take place in a meadow. The room is also very murky. It has haystack in the room and a curtain on the window. In the middle of the room is the Crowman. Scattered around him are 13 pumpkins. The pumpkins are based on Jack-O-Lanterns and have varying size, eye and mouth shapes. They also have five colours - orange, yellow, green, purple and white.
Challenge Character
Edit
The Crowman is the resident challenge character of this game. He is a scarecrow dressed in black with grey hair covering his face. He tries to attack the Unfortunates if they blow out a bad pumpkin, but remains asleep when they blow out a good pumpkin. He is played by Helen Evans.
Gameplay
Edit
The five Unfortunates must decide which pumpkins to blow out. The Saboteur's job is to persuade the other Unfortunates into choosing the bad pumpkins. If they blow out a bad pumpkin, the Crowman will scream and try to attack the Unfortunate who blew out the pumpkin, but if they blow out a good pumpkin, he will remain asleep. To pass the challenge, the Unfortunates must blow out three good pumpkins. But if they blow out three bad pumpkins, the challenge will be failed and regular voting will commence. At the start of the challenge, The Voice will tell the Saboteur which characteristic the bad pumpkins will have.
 Saboteurs and Unfortunates Trapped
Edit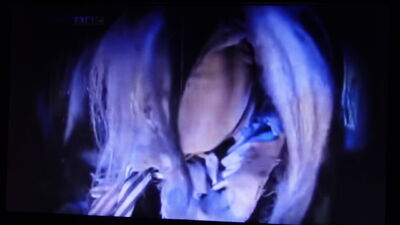 Emz is the only saboteur to sabotage the challenge and remain undetected. but was later trapped in Floor 2, losing the Fight For Freedom to Leon. Thus, Joseph is the only Unfortunate trapped to not be the saboteur.

Steeley is the only male Unfortunate to be chosen as Saboteur.
Beware the Crowman is one of two challenges introduced in Series 3, the other is Giant Appetite.
Additionally, it is both the only Floor 5 challenge and the only mental challenge introduced in Series 3.
Despite being a male character, the Crowman is played by a woman (Helen Evans)
Series 3, Episode 6 (Gateshead) is the only episode featuring this challenge to have a female Unfortunate escape the Tower.
Beware the Crowman was teased in the trailer for the second series, even though it didn't appear until Series 3 (this is likely an error)
Beware the Crowman is the only challenge in which the entire challenge takes place in perpetual darkness throughout.